A Solution for Bacteria-Free Well Water
Bacteria in groundwater is a problem many homeowners have to team with. It may lead to issues such ascertain harmful bacteria, including E. Coli. Additionally, sulfur commonly seeps into the water supply, causing it to have a pungent, distinct, and unpleasant odor. Some non-intrusive treatments, such as ultraviolet light filters, may work in this situation. However, there are times when a chlorinator is the best option.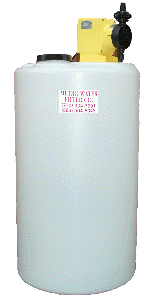 What Does a Chlorinator Do?
A chlorinator adds a small, continuous amount of chlorine into your water when necessary. Chlorinators kill all harmful bacteria within seconds of contact, making your water completely safe to drink. These types of filters also remove any unpleasant sulfur odor from the water, so you and your family can drink and bathe in it with confidence.
Is a Chlorinator Safe for My Home?
That's a fair question, one that we at Metro Water Filter of the South take very seriously. Yes, chlorine is considered unsafe to ingest, especially in larger amounts. Unfortunately, though, sometimes adding chlorine to the water is the only effective way to neutralize harmful bacteria. A chlorinator is installed when no other choice is present.
However…
When installed as a part of a water filtration system, a chlorinator is a practical option. Naturally, we want to keep you and your family safe, not only from the harmful effects of bacteria, but also from the chemicals like chlorine that we use to treat it. If we install a chlorinator, we typically also install a carbon filter further down the line to remove the chlorine from the water once it has killed the bacteria. This means the chlorine will no longer be present in the water once it reaches your tap.
Schedule Your Free Consultation
Your home or office is a call away from having purer water. Contact us for a complimentary water diagnosis to see how a water filter system could help you.
Our knowledgeable and helpful team is ready to take your call. Contact us today at 888-604-8043 for water filter services in the Southeast, including the Metro Atlanta area. We'll take care of your request and find the water filtration solution that works best for your needs.